Biodegradable straws by KonzaWare are made from Marine Biodegradable & Soil Biodegradable, natural, sustainable wood pulp.  They are durable, PFAS-FREE and naturally break down in a home composting environment into natural elements such as carbon dioxide, water and compost. KonzaWare eco-friendly drinking straws are the environmentally-friendly alternative to traditional plastic straws.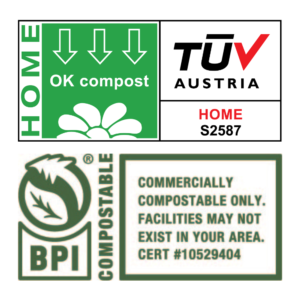 KonzaWare Earth home compostable drinking straws are made of sustainable wood pulp which has been transformed into a biodegradable plastic. This bioplastic is Marine Biodegradable & Soil Biodegradable and PFAS-free. Straws are gluten-free and contain NO heavy metals, nor plant toxicity. They are TUV AUSTRIA OK compost HOME #S2587 and Biodegradable Products Institute #10529404 (BPI) certified.
KonzaWare straws have US FDA Clearance for Food Contact and are never soggy. They are strong, sturdy, durable, look & feel like regular plastic straws. They last for hours; even days. Once properly discarded, KonzaWare straws won't remain as a micro-plastic. Instead, they create a soil-friendly end-of-life compost for plants.
KonzaWare biodegradable straws are commonly used in eco friendly food service businesses such as cafes, juice bars, smoothie shops, restaurants and food trucks. Also, hotels, resorts and catering services that prioritize sustainability and environmental conservation also tend tend to use compostable drinking straws to be environmentally conscious.
The best biodegradable drinking straws are better for the environment than are regular plastic straws. Biodegradable straws break down into natural substances and are much faster to decompose compared to regular plastic which takes hundreds of years.
Using biodegradable straws reduces plastic waste in our landfills since they decompose faster. That means less waste in landfills, oceans and other natural settings.
Overall, biodegradable straws offer a more sustainable and environmentally friendly alternative to traditional single use plastic straws.